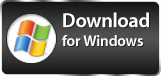 Our FREE DropSend Outlook plug-in allows you to send large files directly from Microsoft Outlook. Get all of the features found in the online version of DropSend PLUS:
New Features
Faster Upload (4x Faster) by using multi-threaded file transfer technology.
Files are compressed before sending to save time and bandwidth.
Auto Resume Support for broken file transmissions.
No mail bounce-back.
Send directly from you Microsoft
How to use:
Start Microsoft Outlook
On New Message window, click the button Attach with DropSend.


System Requirements:
MS Outlook 2007-2010
Windows XP
Windows Vista
Windows 7 (x64 & x86)
Send large files directly from Outlook!